Clarify
hydroxy acid cleansing foam and acne treatment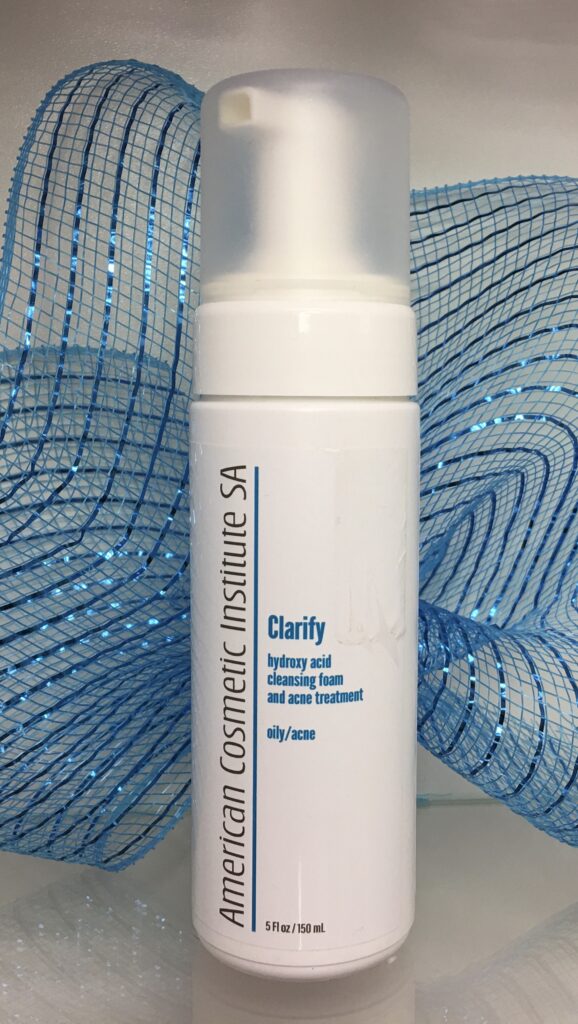 DESCRIPTION:
This clarifying foam cleanser with alpha and beta hydroxy acids was developed for oily and blemish-prone skin. It penetrates deep into pores, dissolving excess oil and debris that lead to breakouts.
KEY INGREDIENTS / BENEFITS:
• (2%) Salicylic Acid is an exfoliating, oil-soluble beta hydroxy acid
that penetrates deep into pores, dissolving oil and dead skin cells that
build up and lead to congestion and breakouts
• (3%) Glycolic acid is the smallest size alpha hydroxy acid giving it more
exfoliating potency than other hydroxy acids for smoother skin and more
refined pores.
• Tea Tree Oil kills acne-causing bacteria and regulates sebum production.
• Lavender soothes the skin and provides natural fragrance.
• 100% Soap-free formula thoroughly cleanses without over-drying.
SKIN TYPE / INDICATION:
Oily skin
Acne-prone, blemishes, blackheads
Enlarged pores
Body breakouts
PRODUCT USAGE:
Use daily and/or nightly on face or body
Wet hands, dispense ½ or full pump, lather skin and rinse off.
TALKING POINTS:
2% Salicylic Acid dissolves oil and dead cell buildup that leads to pore congestion and breakouts.
Exfoliating multi-hydroxy formula smooths skin texture and reduces the appearance of enlarged pores.
Lightweight cleansing foam thoroughly washes away oil, make-up and sunscreens without over-drying or stripping the skin.
Ideal for body breakouts.
On The Spot
blemish fighting solution and acne treatment with sponge tip application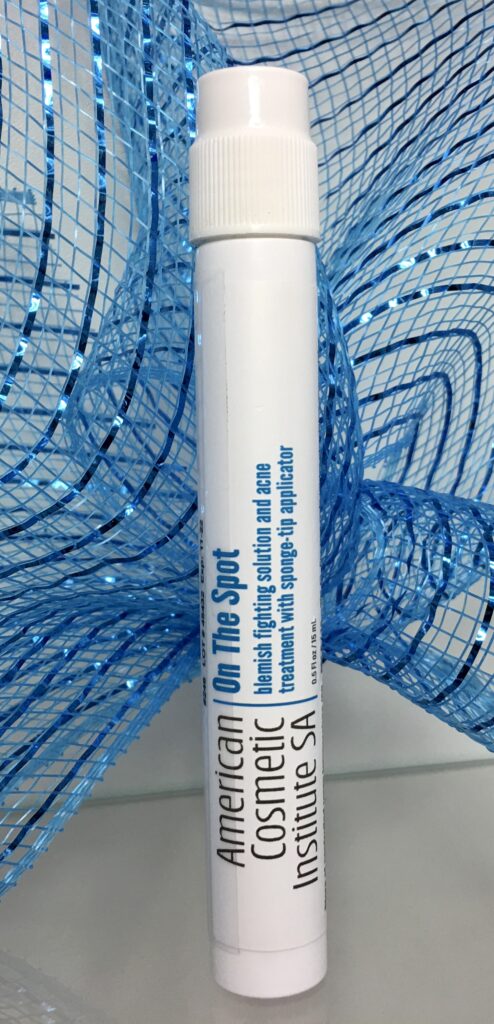 DESCRIPTION:
A unique blemish-fighting tool that targets active blemishes, prevents future blemishes and brightens up any spots left behind. The convenient sponge-tip applicator allows for precise spot treatment.
KEY INGREDIENTS / BENEFITS:
• (2%) Salicylic Acid is an oil-soluble beta hydroxy acid that is antibacterial,
anti-inflammatory, exfoliating and can penetrate deep into
pores, dissolving oil and dead cells causing congestion and breakouts.
• Niacinamide calms skin, is anti-microbial, helps regulate oil production
and brightens skin.
• Azelaic Acid is a milder dicarboxylic acid that gently exfoliates dead
surface cells, unclogs pores, calms skin, and reduces breakouts It is
also an effective skin brightening ingredient.
• Licorice Root Extract calms and brightens the skin.
• An advanced Polymer forms a light film on skin upon application to
improve ingredient penetration.
SKIN TYPE / INDICATION:
Blemish-prone skin types
Active blemishes
Post-breakout dark spots
Body breakouts
PRODUCT USAGE:
Dab area/s of concern once daily and/or nightly
Prepare for use – Unscrew and discard cap from stick.Use pointed object to pierce seal and remove foil and cellophane completely. Take larger cap (containing sponge tip) and firmly screw down onto stick until it no longer turns. Check to make sure sponge-tip is fully inserted into stick
TALKING POINTS:
Spot-treatment stick that helps reduces current breakouts and prevents new ones without over-drying or irritating skin.
Brightening formula helps prevent post-breakout dark spots and diminish the appearance of existing ones.
Convenient and easy to use stick with sponge-tip allows for precise application on face or body.
SolScreen
tinted antioxidant sunscreen – broad spectrum spf 40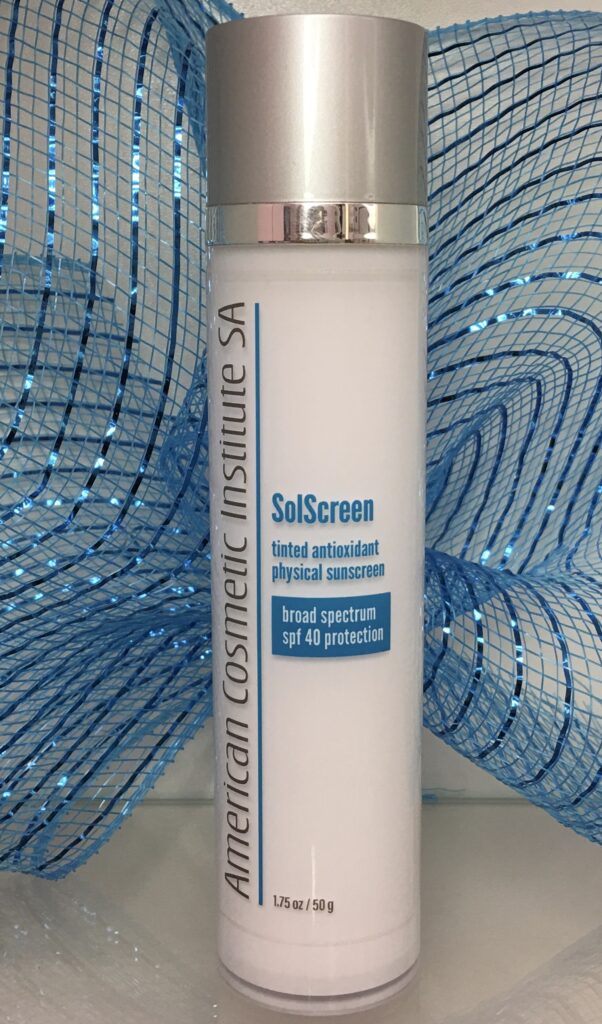 DESCRIPTION:
This elegant tinted SPF 40 sunscreen with potent antioxidants provides vital broad spectrum protection without any chemical sunscreen ingredients. Its lightweight sheer formula leaves skin feeling smooth as silk with a flawless, shine-free finish.
KEY INGREDIENTS / BENEFITS:
• 4% Titanium Dioxide and 4% Zinc Oxide provide essential broad
spectrum, physical protection against UVA and UVB rays.
• Esters of Vitamin C and Vitamin E fortify the skin against environmental
stressors with Ferulic Acid added to double their antioxidant efficacy.
• Iron Oxides give formula its tint and provide additional physical
sunscreen protection.
• Argan is non-comedogenic, provides light moisturization, helps regulate
oil production and adds antioxidant fortification.
• Reef-safe and free of chemical sunscreens, parabens and preservatives.
• Silky, non-greasy formula provides smooth, even coverage.
SKIN TYPE / INDICATION:
Combination to oily skin types
Prevention of sun damage
Sensitive, post-procedure
PRODUCT USAGE:
Use daily prior to sun exposure (reapply as needed).
Apply evenly to cleansed skin.
TALKING POINTS:
Chemical-free formula is environmentally friendly and gentle enough to be used by sensitive or post-procedure patients.
Potent antioxidants fortify against aging free-radicals.
Non-greasy, lightweight formula goes on evenly and leaves skin with a pore-less, smooth look (ideal as a makeup primer).
Iron oxides provide a natural tint, avoiding the chalky-white appearance physical sunscreens are known for.
Replenish
mattifying lightweight moisturizer with clarifying peptides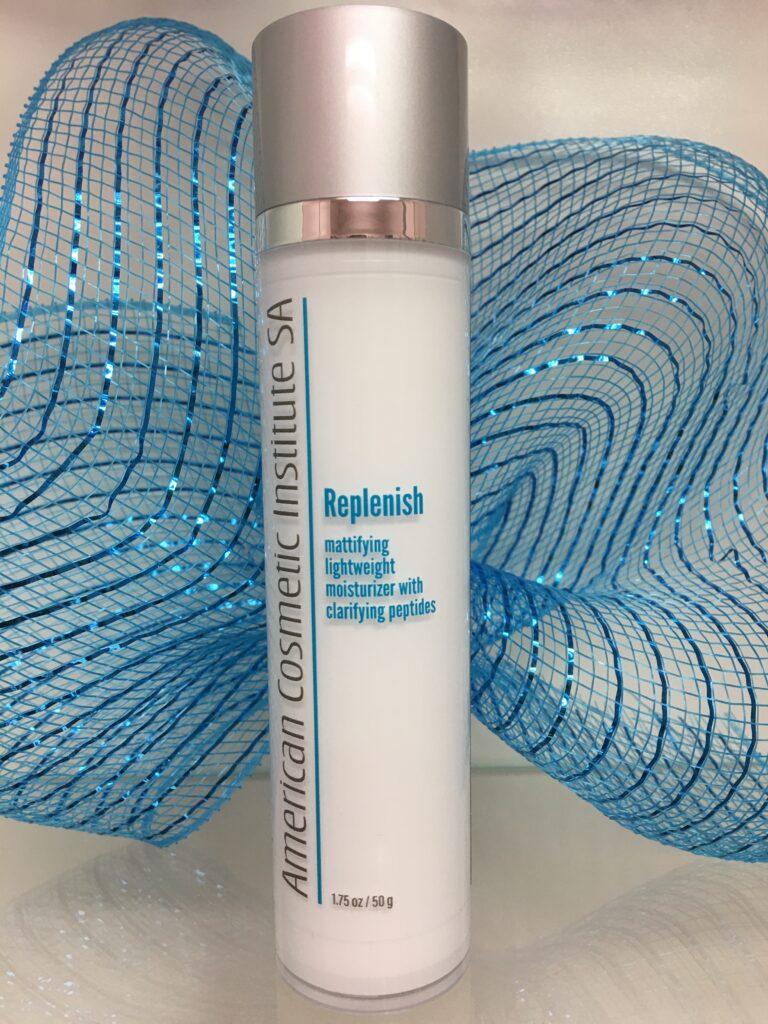 DESCRIPTION:
This lightweight mattifying gel/cream moisturizer with advanced clarifying peptide technology was developed for blemish-prone skin in need of a little moisture.
KEY INGREDIENTS / BENEFITS:
• Advanced clarifying peptide, Oligopeptide-10 targets acne causing
bacteria to reduces breakouts.
• OIive-derived Squalane mimics the skin's lipids and tricks the skin into
regulating natural oil production, so it is never too oily or too dry. It also
replenishes the skin's natural barrier, keeping moisture in the skin.
• Bisabolol and Allantoin calm the skin and help maintain its natural
moisture balance.
• Green Tea is anti-inflammatory and calms the skin.
• Titanium Dioxide is a light scattering mineral with the ability to reduce
surface shine on skin for a more mattified appearance.
SKIN TYPE / INDICATION:
Most skin types
Blemish-prone
Current breakouts
Depleted barrier caused by drying acne topicals
PRODUCT USAGE:
Use daily and/or nightly
Apply to face, neck or chest as needed for dryness.
TALKING POINTS:
Advanced clarifying peptide targets active blemishes and prevents them from occurring in the future.
Gel/cream provides non-comedogenic, lightweight moisturization without a heavy, greasy feel.
Mattifying formula leaves skin looking silky-smooth and shine-free.
Replenishes and calms skin that is overly dry from using strong acne topicals.